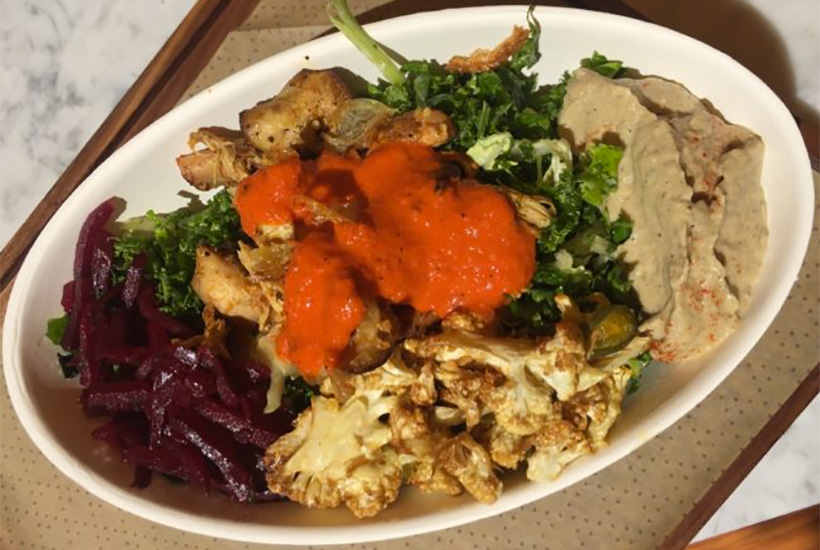 I lived in the Short North when a new restaurant meant a bar had been taken over by a new owner and they'd replaced the paper coasters. Mentioning the Short North now evokes exhilaration at the idea of visiting its many independent shops, galleries and more places to get astoundingly good food than you can comfortably tackle in weeks. So, if you haven't already begun, get yourself to this always–stimulating neighborhood as soon as you can.
One of my new favorites is Brassica, a cozy, friendly spot where it's impossible to tease out which is better: the aromas, the incredibly delicious food, the healthy favor you're doing for yourself, or just the overall atmosphere. Never mind: don't even try to choose one. It's enough of a challenge to decide among the gorgeous array of original food, so as I said before: get there sooner rather than later!
This is not just any walk–through eatery. The offerings are original, beautifully offered and so good for you! Your first choice is between a bowl of greens with lentils and rice or a freshly-baked whole wheat pita. Filling it after that is like being at a candy store when you were six years old: each choice better then the last. My two friends and I each came up with very different combinations, all equally wonderful. Check out my beets, roasted cauliflower, baba (eggplant), carrots, chicken shawarma, and roasted red pepper sauce — there's even more under there, but you get the idea. If you need more proof of Brassica's appeal, the line out the door tells you all you need to know.
Brassica is at 680 N. High/614.867.5885 http://brassicashortnorth.com/    #brassicashortnorth
See that shadow above the bowl? It's not a flash — we were able to eat outside, so that's SUNSHINE on one of the first days it actually felt good to eat outside. We felt sort of like the groundhog.