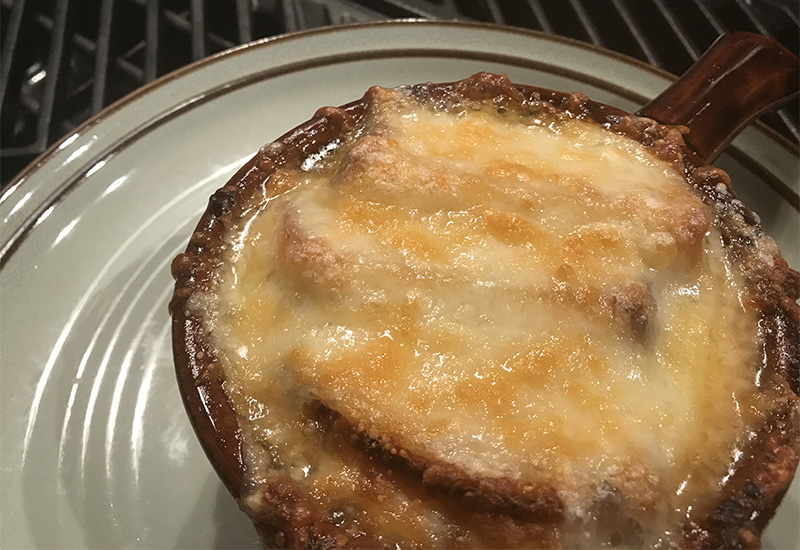 Julia Child was about a foot taller than I am, and roughly a thousand times better a cook. The genius of her recipes is that you can make them with nearly endless variations (or follow the instructions to the letter) and they will turn out beautifully.
My version of her onion soup, prompted by this weekend's cold rain in my part of the country, is not too different from the original. Working my way through college in a local restaurant, I fell in love with the thick mixture of cheeses they piled on their soup. Thankfully, we now know that cheese is not the enemy all the low-fat "experts" used to claim. Layer it on!
I also use lots more onions. This increases the onion–to–broth ratio to the point that the bowl is loaded with sweet and tangy onions. Additional butter and a little broth make the roux for a richer, nearly casserole–like effect. You do need croutons to hold up that cheesy layer… find a rich asiago cheese loaf, cut it thinly, and enjoy the little indulgence.
If you're watching your carbohydrate intake, this recipe isn't ultra–low, but it won't push you too close to your limit, either. Vegetarians will do quite well with a vegetable broth — it won't be the typical onion–soup–brown, but the browned onions and the remaining flavors will keep it delicious.
Put on your pearls, pour a glass of wine, and get cooking.
As Julia always wished us: Bon Appétit!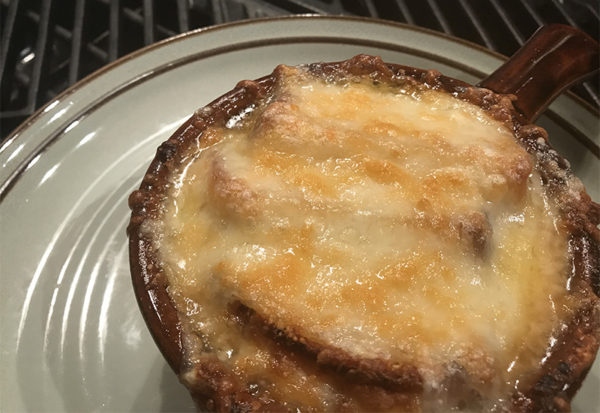 Cook Time

2 hours

(some can be done ahead)
Cook Time

2 hours

(some can be done ahead)
For the croutons: Preheat broiler; place rack about 5" away from source. Thinly slice the asiago loaf (no thicker than 1/4 inch) and place on a baking sheet. Cut slices into 1–inch wide strips. Spray with olive oil and broil about 2 minutes. Watch closely to cook just until most of the surface is light brown. Turn croutons over and spray with additional olive oil; return to broiler and cook as the first side. To avoid soggy croutons, remove from the baking sheet immediately and place on a cooling rack. Turn broiler off.

For the onions: Slice all thinly, about 1/16" Melt 4 tablespoons butter and 2 tablespoons olive oil in a wide, heavy Dutch oven or similar pot. The wide bottom will help the onions cook evenly. Add the onions, cover, and cook over low heat 20 minutes, until soft and translucent. Uncover, add the salt and sugar, and stir well. Increase to medium heat and cook until a deep golden brown. Stir often, scraping the bottom of the pot. This can take up to 40 minutes.

Turn them into soup: Depending on the type of pot you're using, the onions may get more brown or stay golden; my enameled cast–iron won't get them a deep brown. Only when they're the deepest gold/brown, add 2 tablespoons butter, stirring until melted. Stir in 1 tablespoon of the flour, then 1/4 cup of the broth. Stir constantly to allow the flour to mix in. Add the remaining flour and cook, stirring, for another 2 minutes to cook off the flour-y taste and again to incorporate it. Add another 1/4 cup of the broth and stir until it's all a thick base. Add the remaining broth about a cup at a time, stirring to mix after each addition. Add the white wine, stir, return to a boil, and reduce to a simmer. Add the pepper, taste, and adjust. Simmer 45 minutes to develop flavor and texture. Before serving, adjust salt and pepper if necessary.

For the finished bowl: Preheat the broiler. Ladle soup into ovenproof bowls or individual casseroles (preferably with handles for easier removal to plates). Arrange croutons flat on the surface of the soup. Cover loosely with a layer of mozzarella. Cook under the broiler for about 1 minute, watching that it doesn't burn. Remove from broiler; add 1 slice of Swiss cheese. Top with grated Parmesan and grated gruyere (if using). Return bowls to broiler for one additional minute, or until bubbling and just browning. Carefully remove to a plate that will not break while holding a hot bowl, or line the plate with a non-slippery cloth napkin.

No garnish I've seen can improve this soup; eat as is, as soon as you can.