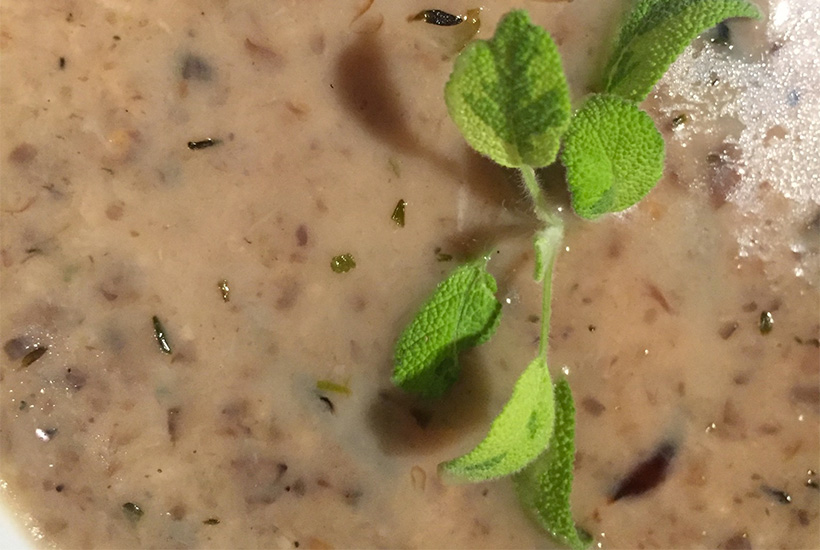 This is not the mushroom soup Grandma mixed with canned green beans. This is mushroom soup you can serve as a perfect first course, but it's equally stellar in your lunchbox. Heat it up, or eat it chilled. Any way you eat this soup, you'll be rewarded with deep, satisfying flavor that's surprisingly light.
I adapted this soup from a creamy, buttery one I recently tasted at The Inn at Honey Run in Millersburg, Ohio. It was the most delicious soup I've tasted in ages, but I wanted to lighten it up so I didn't have to save it for "once in awhile." Roasting the mushrooms really punches up the flavor, and there's just enough garlic to complement without overpowering. All that flavor means 1% milk can substitute for the cream. The final touch: squeeze a swirl of balsamic glaze into it just before you eat that first bite. You won't be able to slow down enough to add it later!
That sprig of sage?  From my window box — so stay tuned — it's almost time for gardening!
The recipe:
12-16 oz mixed mushrooms, roughly chopped
1 tablespoon olive oil, divided
1 t dried thyme (fresh leaves cook a little too fast for my taste)
salt and pepper to taste
1/2 red onion, chopped
3 cloves garlic, diced*
2 teaspoons chopped fresh sage
additional thyme (fresh or dried) to taste, about 1/2 teaspoon
1 1/2 cups miso broth
3 cups low-sodium vegetable broth
3/4 cup 1% milk
Roughly chop the mushrooms. In a large bowl, toss mushrooms with olive oil, thyme, salt and pepper. Spread on a rimmed baking sheet, and bake at 400° for 20 minutes, until they're a deep roasted golden color.
In the meantime, heat 1 t olive oil in a large, heavy saucepan or pot. Sauté onions until almost translucent, then add the garlic, sage and thyme. Stir together for another minute or two.
Add the miso and vegetable broths. Simmer slowly, uncovered, for 15 minutes, stirring occasionally.
Stir in the milk until it's heated through.
Adjust seasonings, then either transfer to a blender, or use an immersion blender to make it as smooth or chunky as you like.
Garnish with a swirl of balsamic glaze and optional chopped chives, sage, or flat-leaf parsley.
*Extra cool nutrition & science tidbits:
Dice the garlic before you chop the onions. Allowing the garlic to stand for about 10 minutes allows its antioxidant superpowers to develop even more than when it's freshly chopped. Weird, but true!
Miso is a fermented food, which means it's great for your gut health. More on that later.